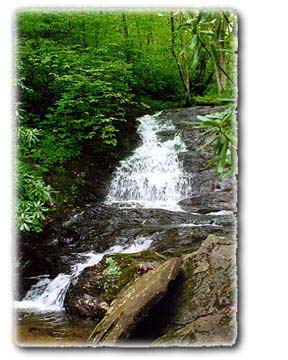 In the scenic Blue Ridge mountains of western North Carolina is a quiet place called Fleetwood Falls®. Here, recreation doesn't move in the fast lane; its pace leaves one renewed. The nature trails reward the hiker with spectacular vistas. The New River flows serenely by the entrance for canoeing, swimming and tubing. Fed by sparkling mountain streams, the waters nourish rainbow trout and other game fish. There are also two lakes within the resort for swimming, and fishing . Canoeing and bicycling are also available. Nearby are fine golf courses and the south's best ski resorts.

Fleetwood Falls® is a secure community with one entrance that has an electronically controlled gate, accessible to property owners and authorized personnel.

Utilities are underground to maintain harmony with nature over 500 acres of beautifully natural Fleetwood Falls® property. Pure well water is supplied to each lot.

Fleetwood Falls® is located in beautiful Ashe County, just a few miles off US 221, between West Jefferson and Boone, North Carolina.

Come to Fleetwood Falls® to enjoy the crisp, cool mountains and quiet living.